Disclosure: This shop has been compensated by Collective Bias, Inc. and its advertiser. All opinions are mine alone. #FortunaForAll #cbias #collectivebias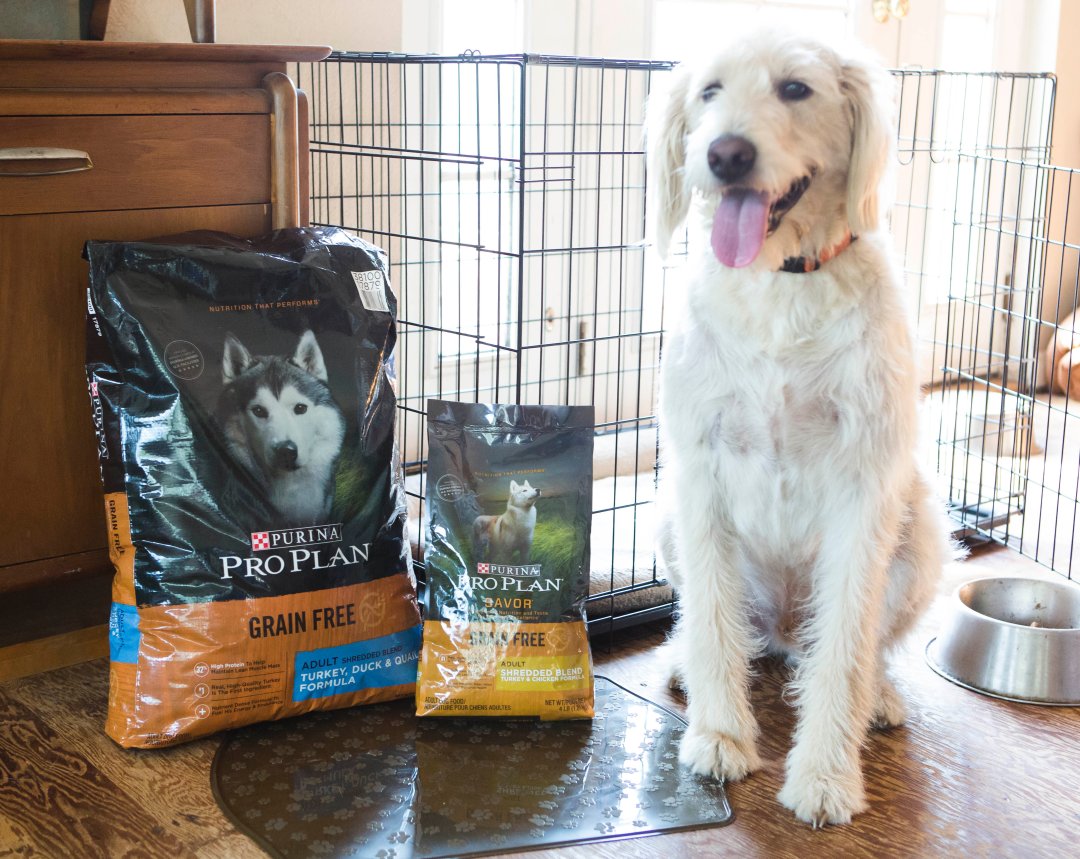 Hover over image to shop for this product at PetSmart!
How to Organize Your Dog's Supplies Before They Take Over Your Life
I think you all know that Frodo is out to get me. Oh, sure, he looks sweet and cuddly (okay, he is sweet and cuddly) but…let me tell you a little story.
Frodo and the Best Day Ever
The other day our ABA therapist arrived as usual (we'll call him Adam). Frodo, being a dog, is convinced that Adam comes every day just to visit him. He gets so excited. He thinks it's The Best Day Ever when Adam arrives.
Have you ever seen a kid jump up and down in excitement? Frodo knows better than to jump so instead he grabs the nearest object to put in his mouth when he gets excited. The other day when Adam arrived Frodo proudly presented him with Apollo's muddy shoe. I assumed Adam had no interest in Apollo's shoe and took it out Frodo's mouth. Frodo and I walked by the pantry so I could take him outside to go potty. As I chained him up I noticed he had a piece of bread in his mouth. Oh yes, my friends, Frodo walked by the pantry and stealthily grabbed a piece of bread to snack on. Without me even noticing!
What the heck??? Bad, dog, Frodo. Bad dog!
The other way he is out to get me is to overtake my house with his supplies. No matter how much I plead, he refuses to read my blog post about how More is Less in a Large Family. Therefore, his dog supplies multiply. I swear he has more toys than that kids did at his age.
I am determined if I can raise 14 kids, run a successful business, and effortlessly explain the birds and bees to a six-year-old, certainly I can organize the paraphernalia from a single dog.
Right?
*please say yes*
3 Steps to Organize Your Dog's Supplies
In general, when organizing it is a good idea to keep everything in one spot instead of spread throughout the house. With Frodo, I have found it works best to have a few convenient spots around the house to stash his supplies.
1. Buy Container to Store Your Dog's Food
I store Frodo's food in a plastic container with a lid in a quirky little closet we have in our living room. This way it is concealed but easy to access.
I buy Frodo this Purina® Pro Plan Grain Free Shredded Blend Turkey, Duck, and Quail at PetSmart. (So why is he stealing bread? I have no idea…)
This food is made with high-quality protein, no grains (hear that, Frodo? No bread!), and vitamin A and linoleic acid, an omega-6 fatty acid, to promote healthy skin and coat. To add some variety to his diet I also purchased the Purina® Pro Plan Savor Grain Free Shredded Bled Turkey and Chicken Formula. Both can be found at PetSmart…along with dogs who are much better behaved than Frodo.
Save a Fortune Sale at PetSmart that is going on through May 31st!
Spend $20 and you get a $5 PetSmart gift card (and yes, you can earn more than one!) First purchase must be $20 or more, after that, you can combine receipts. Register your information to be entered into the Grand Prize Sweepstakes. You can then upload their receipt on PurinaFortunes.com and upon validation of purchase will receive notification of their gift with purchase. Your physical $5 gift card will be sent to you within 8-10 weeks.
2. Buy a Container for Your Dog's Toys
This metal container is actually left over from Tilly and Jared's wedding. I like the rustic look it adds to my living room and it is easily big enough to contain all of Frodo's toys. I also love that when he gets bored he will look through this bin for a toy to play with. It's so cute!
Being a dog, Frodo tends to drag his toys all over the house. I love that when it is time to tidy up they all be tossed in this bin.
3. Contain Your Dog's Outdoor Supplies
I bought these vintage locker bins at a garage sale for $1 a piece a few years back. I love these things and they are perfect for storing Frodo's outdoor supplies in our entryway. This bin contains his leashes, his harness, his brush, and his snacks and treats. I love how it blends in with the rest of the entryway. While I know our house isn't going to make it into any beautiful home magazines, I am happy our home doesn't look like a pet store.
Those three steps keep Frodo's supplies more or less contained. At the moment his crate is in the living room (which I hate) but so I haven't found anywhere else to put it. How do you contain pet products at home?
If you are looking for more resources, Treehouse Puppies is a great site for dog information and product reviews.
—
You can head to PurinaFortunes.com to win prizes instantly.
Prizes:

2 Grand Prizes:

1 Dreams of Fortune Cat Bed – AVR: $2,145
1 Dreams of Fortune Dog Bed – AVR: $2,145

Instant Win Game Prizes (daily)

Purina Branded Tarot Cards (50 total) – ARV: $25/ea
$50 PetSmart Gift Card (15 total) – ARV: $50.00/ea
$25 PetSmart Gift Card (15 total) – ARV: $25.00/ea
$10 PetSmart Gift Card (25 total) – ARV: $10.00/ea

No purchase necessary to win.
SaveSave